Art Unmasked is a public exhibition of 19 unique artworks, displayed at Westfield London for 12 months, to be auctioned Spring 2023 to fundraise for Global's Make Some Noise.
The project began at the height of the COVID-19 pandemic, and includes artwork, varied in origin, style and focus, that reflect on the effect the pandemic had on all levels of society, culture and community, whilst championing hope and positivity for the future.
Post-pandemic, the exhibition reminds us to take stock of the permanent changes to our way of life, and to help those worse effected by COVID-19. Funds raised for Global's Make Some Noise will help them continue to support small charities across the UK responding to the huge increase in demands for services in their local communities by providing shelter and safety, supporting physical and mental health, improving life skills, and preventing isolation.
Children from local schools in Hammersmith and Fulham will also participate; ActionFunder have offered children the opportunity to respond creatively to their experience of COVID 19. The chosen artworks to be displayed in 2023 as part of the exhibition, alongside pieces by leading artists.
Donate to support brilliant small charities across the UK and register your interest in the auction today!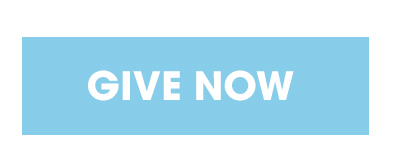 We now invite you to take a look at the collection…
Nathan Wyburn
Thank You NHS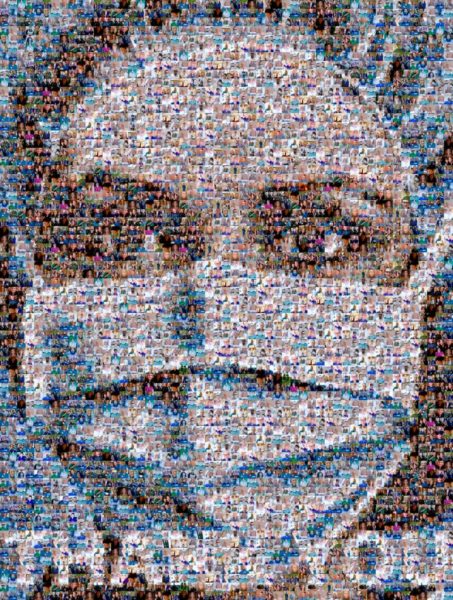 Collage, Paint & Digital Print on Canvas
117 x 86cm
Auction estimate: £800
Utilising hundreds of photos of NHS workers in this digital montage, finished by hand, Nathan pays tribute to the NHS staff who selflessly fought the coronavirus crisis. This image was created during the hight of the first Lockdown and reminds us the self-sacrifice of our front line heroes.
About the artist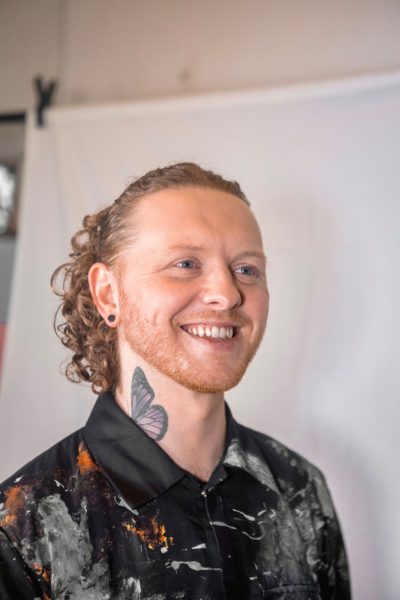 Nathan Wyburn, 30, is a Welsh artist, who specialises mostly in creating iconic celebrity portraits and 'Pop culture' imagery with non-traditional mediums such as Food and everyday items. He has also branched out into making art using his lips, tongue, feet and fingerprints, taking inspiration from current affairs and media topics. Due to the uniqueness of Nathan's artistic flare and the popularity of his work, he has been featured on several TV shows including Sky Portrait Artist Of The Year, The Jimmy Fallon Show, The TODAY show & Good Morning America. Nathan has also been covered greatly in national and global press and has collaborated with many international brands. His work is in many celebrity collections, including that of HRH Prince Charles and Dame Shirley Bassey, and has exhibited internationally.
@nathanwyburnart | nathanwyburn.com

Rob & Nick Carter
Embroidered Spectrum Mask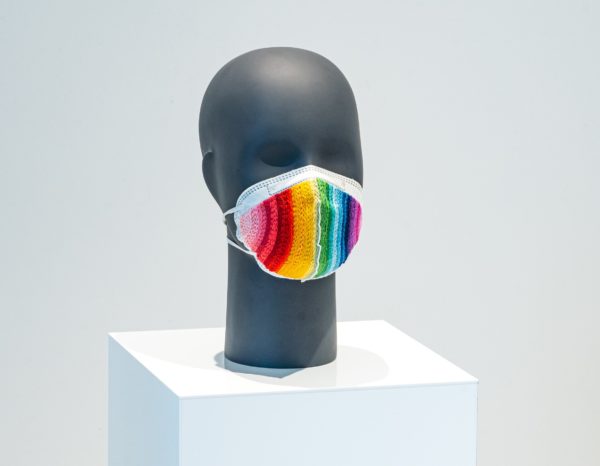 Hand-Sewn Embroidery
15.5 x 20cm
Auction estimate: £500
The piece is centred on colour, light and form. Embroidered Spectrum Mask consists of concentric arcs hand-sewn in a spectrum of colours in the Carter's iconic style. The rainbow became the most renowned symbol associated with the Covid Crisis, spreading positivity and showing support for the NHS.
About the artist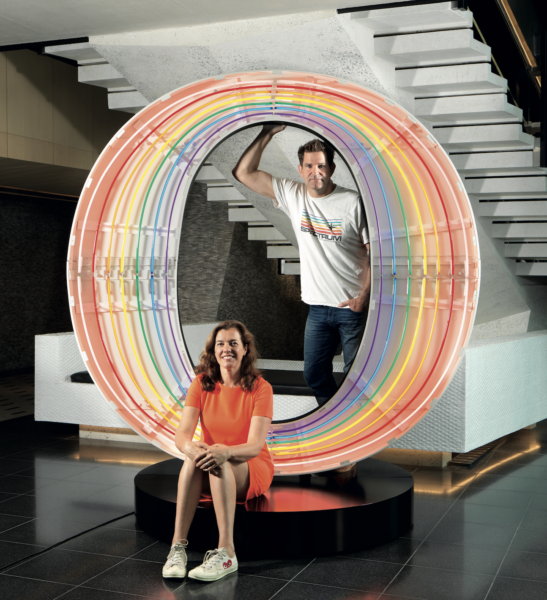 Rob and Nick Carter are a husband-and-wife artistic duo who have been collaborating for over 20 years. The Carter's work is centred on the boundaries between the analogue and the digital and has taken many mediums including camera-less photography, painting, installation, neon, sculpture, time-based media, AI and robotics.
Their work is housed in the collections of the Frick, Pittsburgh; Mauritshuis, The Hague; Frans Hals Museum, Haarlem; Victoria & Albert Museum, London; David Roberts Foundation, London; Städel Museum, Frankfurt; and the Fondation Custodia, Paris, as well as being the only living artists to show a work at the Frick Museum, New York. Collectors include Sir Elton John, Jude Law and Sir Peter Blake.
@robandnick | robandnick.com

Jasmine Pradissitto
PlanetAry Puffer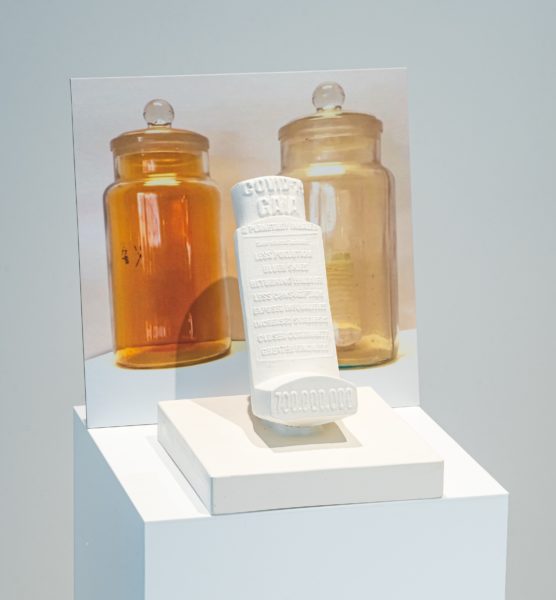 NOXORB
20 x 20 x 28cm
Auction estimate: £5,000
The inhaler or 'puffer' has become an unwelcome icon of the by-products of progress built on filling our biosphere with pollution. Paradoxically, just like the pioneering material this inhaler is made of which cleans the air of the pollutant NOx, during the 'covid pause' we could once again breathe cleaner air from bluer skies, under which we started to better appreciate the natural world.
About the artist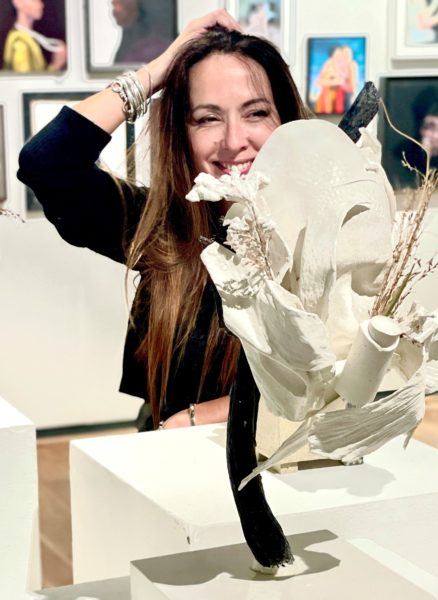 Jasmine Pradissitto FRSA is an award-winning London based British artist, scientist, speaker, and environmentalist who has a Ph.D. in physics from UCL and has studied art at Goldsmith's and London Met. A polymath, her critical practice spans painting, sculpture and technology and she is the only artist in the world licensed to use NOXORBTM, a newly developed ceramic material that absorbs nitrogen dioxide (NOx) pollution from the air. The same NOx that exacerbates asthma. Pradissitto has exhibited worldwide including most recently two pioneering public art projects in London for The Horniman Museum Gardens (winner of Museum or the Year Award 2022) and for Camden People's Theatre with Euston Town, a Mayor of London environmental initiative.
@jasmine_pradissitto | pradissitto.com

David Bray & Ben Oakley (DBBO CREATIVE)
Safety & Superstition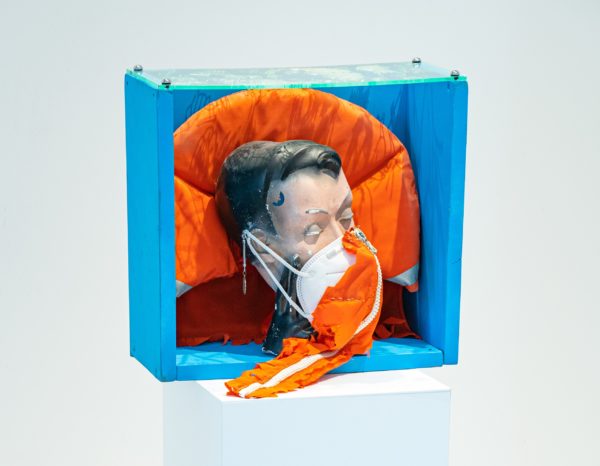 Manikin Head, Medallion, Life Jacket, Wooden Box & Etched Acrylic
37 x 40 x 17cm
Auction estimate: £1,500
A piece displaying conflicting connotations of security and protection. The life jacket, something refugees put all their faith in through times of desperation. St Christopher the patron saint of travel, hanging like an earring. The piece housed in an open frame, safe & protected, confined & isolated. The PPE mask. An overhead panel etched with superstitious imagery and slogans speaking to propaganda and media misinformation.
About the artist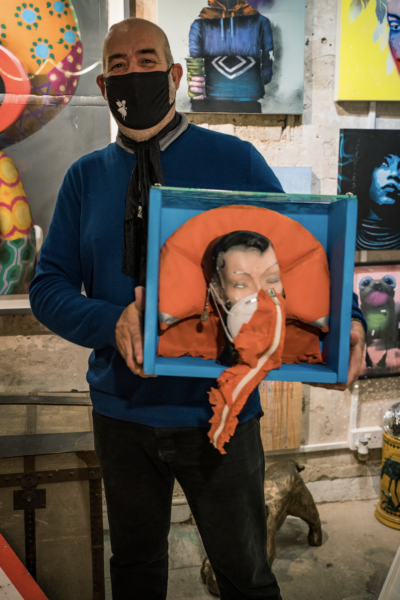 DBBO the creative agency for creatives comprises to ex ad men turned fine artists Ben Oakly and David Bray, who have numerous years of skin in the game. Working with a broad array of Clients such as Citroen, Renault, Schroder Salomon Smith Barney, Unilever, OMD media agency, Other Agency, Wieden & Kennedy, Keen Ales, PAAW House, Saint Chicken, Absolut, Far Rock Away, GDIF, Kilmartin Castle.
Both accomplished fine artists, David Bray has been painting since 2006 and has had solo exhibitions in London, Portland and Los Angeles and featured in group shows in Hong Kong, Tokyo, Asbury Park and beyond. , inc. the Louvre. Oakley has exhibited in the UK, Europe and sold along side many of today's modern masters. Using Aerosol, Acrylic, Emulsion and inventive mixed media, Oakley's work becomes more and more interesting as he layers and combines new techniques with old materials and subject matters delivering them into the 21st Century with Impact and dynamism.
@benoakleygallery_ | @david__bray | maskourheroes.org.uk

Morgan Howell
TURN AND FACE THE STRANGE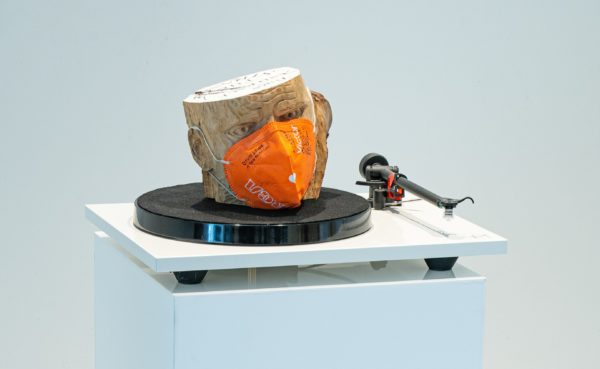 Carved Wood, Paint, Orange Mask on Working Turntable
45 x 37 x 25cm
Auction estimate: £10,000
This piece was conceived during the pandemic, a period of huge change in all of our lives. Just as Bowie sang about facing up to and accepting these changes and the passing of time, so the work speaks of living with our new reality, however different it may be.
About the artist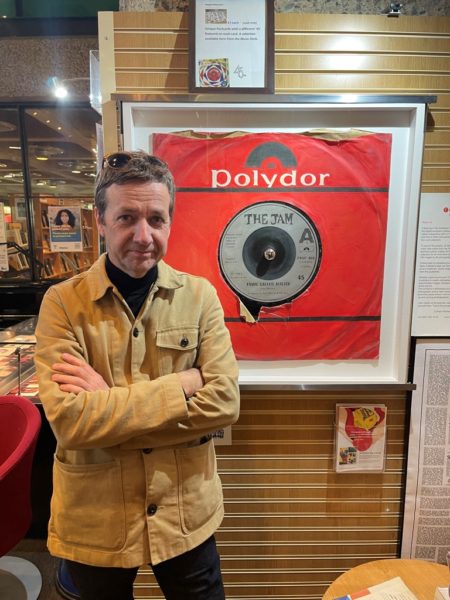 Known for his giant, hand-painted 3-D facsimiles of classic paper sleeve 45s Morgan Howell FRSA creates a one-off unique supersized painting of each single. The natural wear incurred by the treasured disc is duly rendered in paint, making for a desirable artwork and consciousness portal for vinyl junkie music heads everywhere. Howell's attention to detail is fastidious, down to the authentically distressed and creased canvas that doubles as up-scaled paper sleeves and the tiny imperfections round the edges of the labels of the 27" vinyl records. He additionally offers prints and also takes commissions as long as the song hasn't already been painted.
Howell's original paintings are attracting a cult following among musicians and music industry moguls. Collectors include Lord Lloyd Webber, Neil Diamond, Ozzy Osbourne, Jude Law, Johnny Marr, Hans Zimmer and Edgar Wright. His painting of David Bowie's 'The Jean Genie' sits proudly on the wall at Sony Music, 'Yesterday' by The Beatles was displayed at the iconic Capitol Building in L.A. Examples of his work are a permanent feature at the BBC and at London's Barbican. Howell's passion has always been his art and, in 2005, he was made a Fellow of the Royal Society of Art.
@supersizeart | supersizeart.com

Ben Edge
Green Man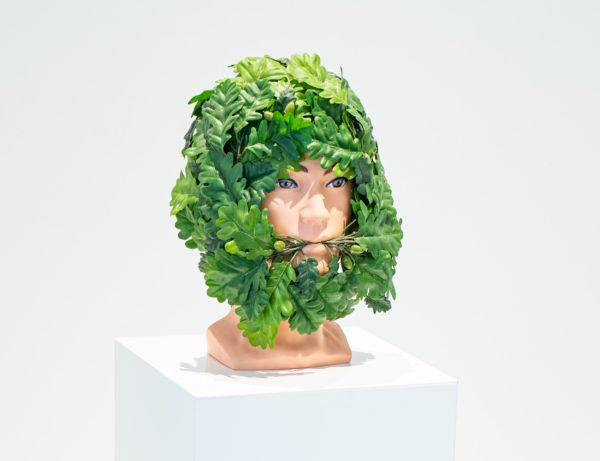 Synthetic Leaves on Plastic Mannequin Head
36 x 23 x 20cm
Auction estimate: £1,000
This piece is inspired by the mystical pagan figure the Green Man. Today seen as a nature deity and symbol of death and re-birth. Using synthetic plastic materials Edge comments on the climate crisis and our abuse of earth's natural resources, and the softening this abuse saw during lockdown. The artist also embodies a global reconnection with folklore as a way or reconnecting with nature.
About the artist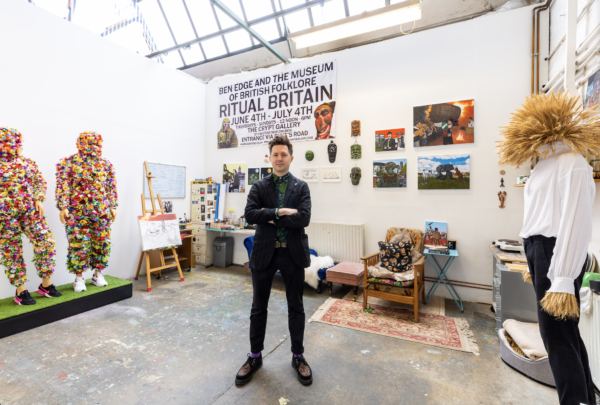 Ben Edge, born in 1985, is a visual artist, songwriter and folklorist who lives and works in North London. Ben studied fine art at London Metropolitan University and since graduating in 2008, has exhibited in numerous exhibitions, including: BP Portrait Award at the National Portrait Gallery and National Gallery of Scotland, where his portrait of his grandfather, 'The Animal Handler' was shortlisted for the prize.
Since his debut solo show at the Hix Gallery in 2017, Ben has been extensively researching and documenting the seasonal folk customs of the British Isles, creating a series of twenty paintings, a full length documentary film and his debut solo album 'New Tradition' in response to his travels.
This body of work titled 'Frontline Folklore' was exhibited alongside, Simon Costin's iconic 'Museum of British Folklore' collection at the Crypt gallery of the St Pancras new church throughout June 2021, in an exhibition titled 'Ritual Britain' that attracted over 10,000 visitors with extensive media coverage and viral exposure across social media.
@ben_edge_art | benedge.co.uk

David Harrison
Great Crested Grebe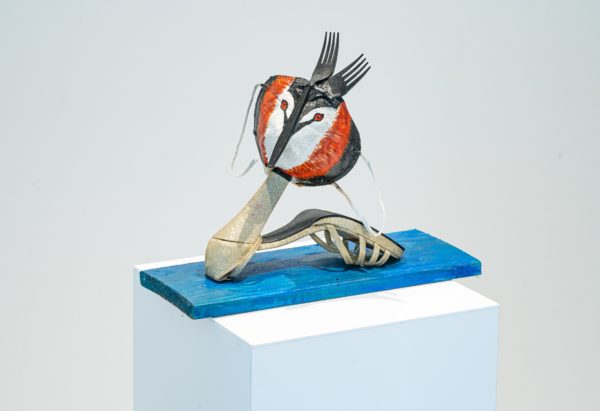 Found Objects with Oil Paint
29 x 36 x 14cm
Auction estimate: £500
Great Crested Grebe is sculpted from found materials, signifying lockdown. A mask for its ruff. Its body an upside-down golden dance shoe, symbolic of our inactivity. It's crest and beak two forks, representing overindulgence and boredom. This piece also shines light on a happy re-emergence of wild animals in cities during lockdowns, allowed to roam their now transformed habitats freely and safely again.
About the artist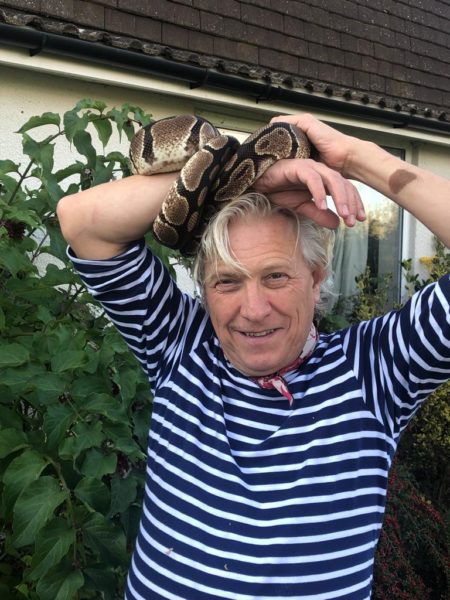 Teetering on the cusp of ordinary perception, Victoria Miro artist David Harrison's paintings, drawings and sculptures present a world where the natural and supernatural go hand in hand. Harrison's works expand the languages of contemporary painting and sculpture, drawing into play parts of the culture which are forgotten, buried, discarded or disregarded. The artist employs all that has lain outside of the mainstream of modern art – age-old symbols and fanciful myth, irrational beliefs, traditional genres like landscape, exuberant sexuality, barbed wit, and wonder at the natural world – in order to speak vividly about our own time, and to revivify the disciplines of painting and sculpture.
Shaped from cheap, prosaic materials such as Sellotape, along with detritus recovered from the city, Harrison's sculptures present us with symbolic figures from the past, from myth, or from fiction. They embody either man's tragic folly or nature's wisdom and life-force, by literally embodying our throw-away society and its effects upon the natural world. Harrison's dexterity with such materials allows each object, despite its humble origins, to possess an alarming, talismanic potency, and an iconic simplicity.
@poodle.666 | victoria-miro.com/artists/35-david-harrison/

James Mortimer
Mask Diptych (Goat Scene & Volcano Beach)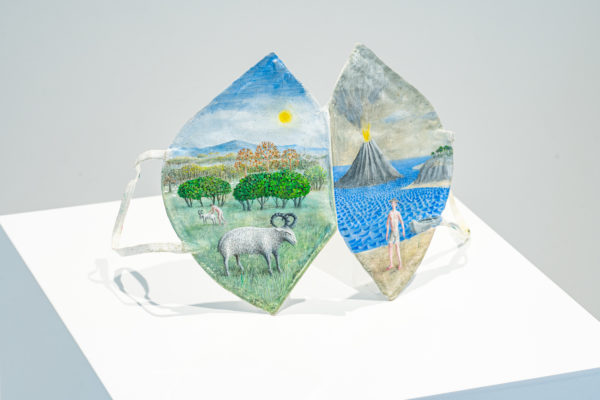 Oil on Gesso Primed Mask
15.5 x 20cm
Auction estimate: £300
Mortimer's treated mask is splayed as a diptych, like a folding renaissance altarpiece. One panel showing a beach scene overshadowed scenic destruction, symbolic of escapism. Opposite, a pleasant landscape with goats and sheep, though the ambiguous scene of man in the distance leaves the peacefulness open to question.
About the artist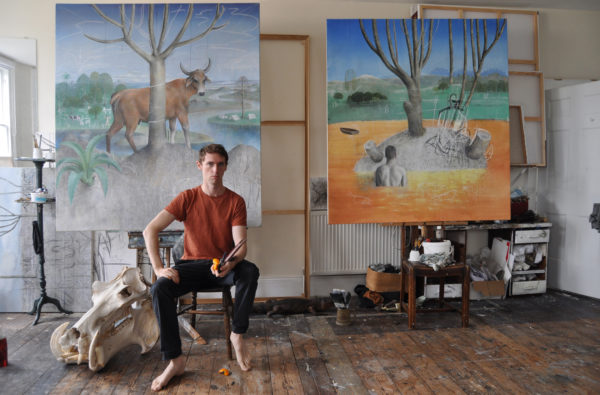 James Mortimer was born in Swindon in 1989, and studied sculpture at the Bath School of Art and Design, receiving the Kenneth Armitage Prize for sculpture. His work is exhibited with various group and gallery solo shows, and he was selected for the 250th Royal Academy Summer Exhibition with the bronze piece 'Crocodile Head'. He lives and works in the UK.
Mortimer's paintings present a reimagined Garden of Eden where man and beast exist on equal footing. There is a seductive air of uncomplicated freedom, with people living in communion with nature. But in exploring this idyll, James also uncovers the often-ignored implications that such an existence involves. Freed from social constraint, people behave unthinkingly with a blissful lack of self-awareness, and once governed by their basest instincts soon find themselves given over to shameless naked abandon: to foolish acts of wanton violence, sexual impropriety, and long afternoons of listless indolence. What results is a world whose fauna is both animal and human, all acting at much the same level of consciousness.
@jamesmortimerart | jamesmortimerart.com

ENDLESS
Hope is Power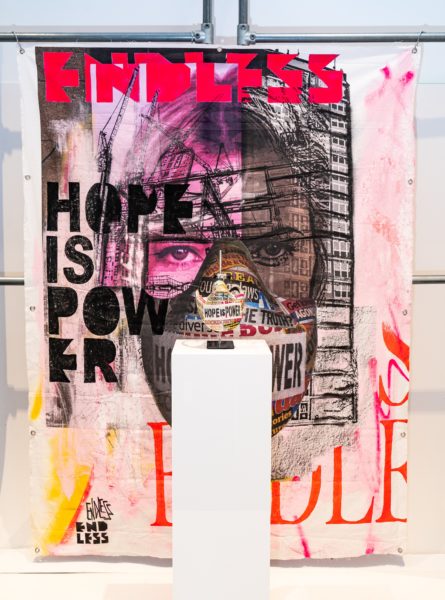 Digital Design, Photography, Spray Paint, Acrylic on Cotton
200 x 154cm
Auction estimate: £25,000
Hope Is Power depicts Kate Moss wearing a mask covered on Covid media headlines, amongst a slogan of positivity "Hope Is Power". The background depicts a collage of urban architecture, scenes photographed by ENDLESS during lockdown, connecting to his street-art roots. Representing the battles the country faced during the crisis, juxtaposed with the resilience and hope that emerged.
About the artist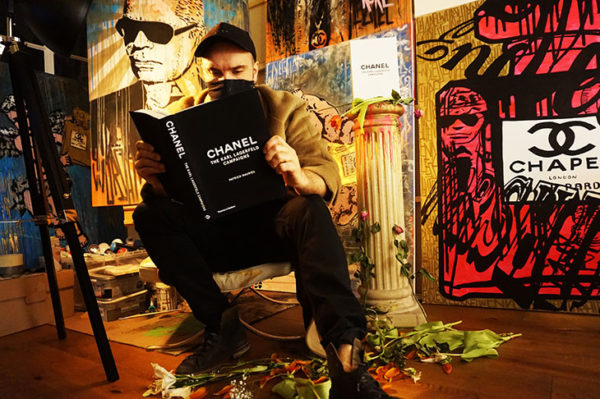 He goes by the name "Endless" – a word which embodies his limitless creativity, passion and drive. ENDLESS is a London-based artist, who infuses street and contemporary art practices and styles. Starting out by showing his works on the streets of London, his reputation has since grown, capturing the attention of the art world, iconic brands and the media alike. Never lacking in meaning or depth, the key messages within the vibrant artworks interpret the artists' unbiased societal observations, exploring humanity's relationship with fashion, advertising, brand-worship, consumerism, and celebrity culture, often infusing contemporary urban imagery throughout.
His consistent creative force and impenetrable work ethic have led him to make strides in the art world, including becoming the first street artist in history to have artwork acquired by the prestigious Gallerie degli Uffizi collection and to exhibit within La Biennale Di Venezia. Endless continues to express ideas through his street-art, but his most exclusive works can be found in Cris Contini Contemporary galleries and in the homes of collectors world-wide.
@endlessartist | endlesstheartist.com

Molly Kent
Dear Diary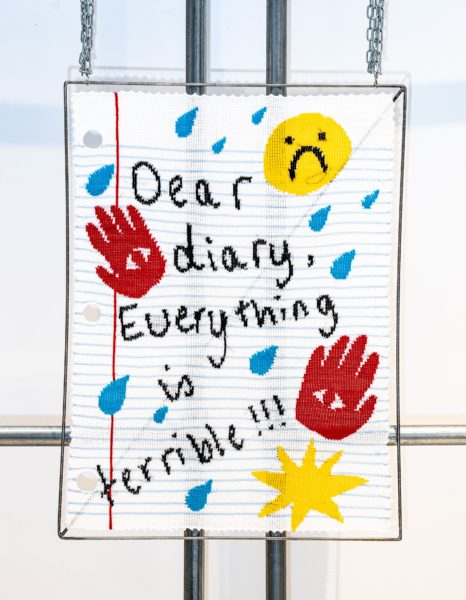 Machine Knit Fibre with Steel Frame
76 x 56cm
Auction estimate: £1,000
Dear Diary focusses on the idea of teenage angst. The beginning of the artist's mental health issues were often disregarded as teenage angst, her inner thoughts hidden away within the pages of my teenage diary. Isolation drove a spike in mental health issues for many. Remember to be hopeful, be open and be supportive.
About the artist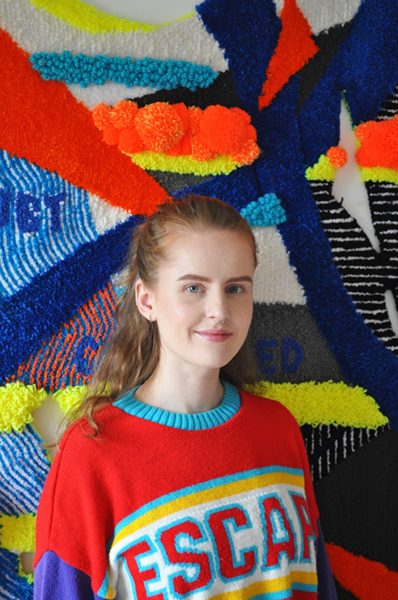 Based in Edinburgh, Scotland, Molly is a recent graduate of Edinburgh College of Art, receiving a Master of Arts with First Class Honours.
Molly Kent is a textile artist concerned with representing mental and physical health notions through mediums such as rug tufting and weaving. She portrays contemporary existence regarding social media and internet living and how this affects our perception of self. This stems from her personal experiences of her mental health condition CPTSD but also reflects on broader anxieties and fears that have come to attention due to the COVID-19 pandemic.
At the beginning of 2021, after experiencing an episode of ill mental health, Kent's work shifted towards a new project, Dream Weaving. Dream Weaving is a multi-award-winning body of work that records dreams and nightmares experienced by the artist as a result of her mental health condition.
Molly is an internationally exhibited artist, having contributed to exhibitions such as WORD OF MOUTH at the Venice Biennale 2019, then toured to Australia, as well as various exhibitions across Scotland and the UK. Her work is held in public and private collections worldwide. Including work being held by the University of Edinburgh's Art Collection and the National Museum of Australia, amongst others.
@mollyhkent | mollyhkent.com

SHEM
Dig Deeper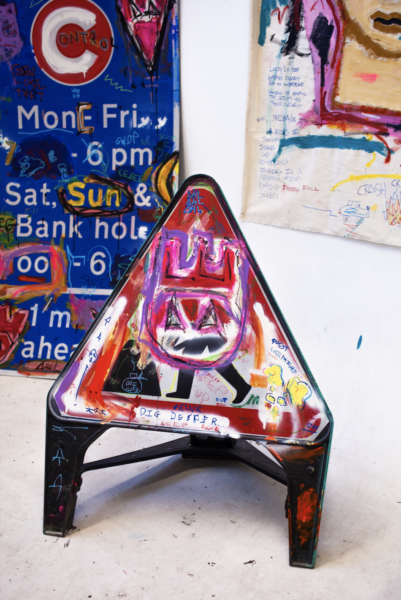 Acrylic, Oil Crayon, Paint Pen & Spray Paint on found Road Sign
113 x 87 x 45cm
Auction estimate: £10,000
Dig Deeper's beginnings lie in construction. Now a metaphor for the utility and futility of work experienced during the crisis. SHEM also positively encourages the viewer to 'Question everything' and 'Step Up, Out and In', reminding us of the power of dreams. Also see the all-seeing being who features in SHEM's work, representing the artist calling out to and connecting with passers-by.
About the artist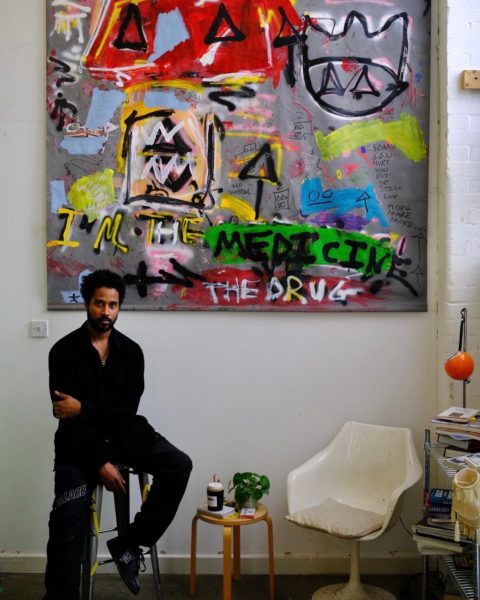 Shem was born in Tottenham, North London. His mother's heritage includes ancestry from Maroon communities of rebel slaves and runaways who lived in the mountainous interior of Jamaica.
Shem started painting in 2014. He successfully staged his first shows in 2018 and 2019 in disused premises where he lived as a property guardian. In June 2020, he exhibited "We are in the Future", a painted billboard in Old Street, as part of a programme of installations curated by Trix Mendez and Outside the Zone. He had his first solo show, 'When The Sun Falls Out The Sky', at the Hoxton Gallery, Shoreditch, London, between November and December 2020.
Shem has collaborated with Mr Doodle on 'Rock Paper Wizards', a project that became a series of 1,000 prints sold in aid of the Ben Raemers Foundation. His second solo show, "Fine Art", March 2022, featured a whole collection of work made across two studios in Dalston, Hackney. The show was acclaimed a critical success. His work is in numerous private collections around the world from Seoul to San Francisco.
@shem_ahl

Kris Lamba
Planet Reaching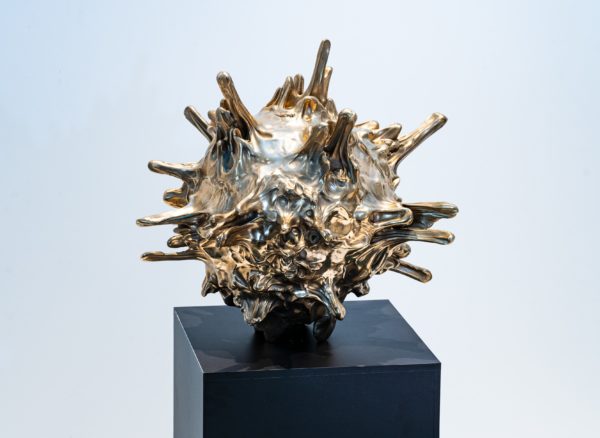 Polished Bronze
50 x 65 x 65cm
Auction estimate: £15,000
An organic form, like both an abstract covid-19 virus and a changing molten planet. Evocative of a dying virus. Whilst also the resilience shown by humanity in response to the crisis. We built a communal armour, in action and in spirit, reaching deep to stay connected, strong, and present.
About the artist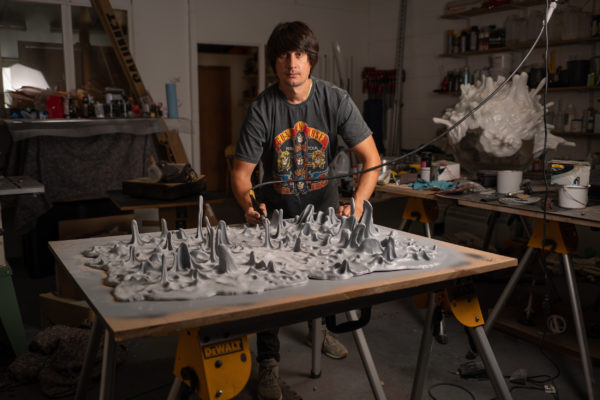 Kris Lamba was born in London in 1984. He creates large and small-scale sculpture, paintings and edition based collectible design. Eschewing traditional media, he works with a variety of industrial biopolymers which Lamba manipulates whilst still molten, often at extreme temperatures. Using a combination of great force, gravity and a pioneering technique of polymer-stretching, he creates otherworldly forms; shapes that defy convention and echo the spontaneous and often violent moments of interstellar creation.
Aiming to partly remove the element of 'self' Lamba adjusts only certain parameters: temperature, quantity, molecular weight and the applied force. Then, using custom designed machinery he pulls apart the molten material, selectively freezing and re-heating where necessary; the resulting shapes seemingly grown rather than made. After a period of consideration, the forms are refined and re- worked over a period of weeks and are either cast in bronze using the traditional 'lost-wax' method, or are finished in precious metals, pigment rich paints and composite resin fabrics.
Lamba's work has been published worldwide to widespread critical acclaim and is held in several prominent collections internationally. He currently lives and works near Brighton, UK.
@krislamba | krislamba.com

Marc Lewis
Confine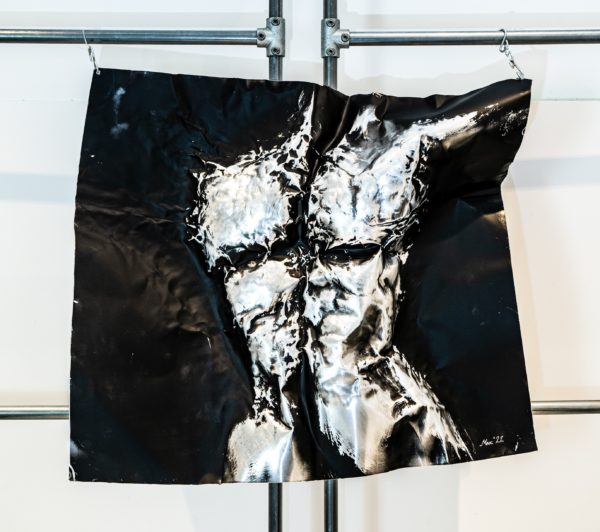 Aluminium with Spray Paint
95 x 105 x 20cm
Auction estimate: £5,000
A body; trapped, encased, confined. A body; strong, hardened by experience, resilient to anything the world throws at it. Though we've experienced a period of hardship, we've come out tougher, more capable, more self-aware. More in tune with our minds and bodies than ever before.
About the artist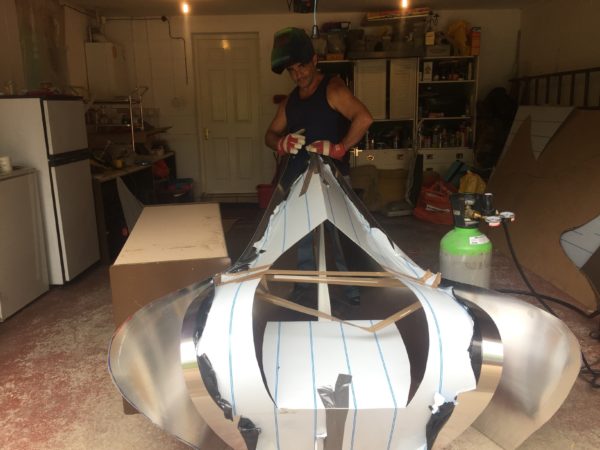 Marc Lewis' work, whilst meticulous, complex and multi-disciplinary, is deeply rooted in his fascination with bodies. Bodies are what we live in, bodies are sexuality, bodies are who we are, bodies are how we survive and bodies are how we are judged. Bodies give us strength, bodies are defense, bodies are the vehicle for our actions. Bodies are how we live our lives. Lewis' work seeks to capture reflections of that intensely fluid and endless dynamic, explored through the contrastingly fascinating material of metal. Lewis' sculptures, each a unique material dialogue, explore the mystery, majesty and mortality of the human form, looking to immortalise fleeting snapshots of a body's depth, and its far-reaching meaning.
Born in London and based in Tel Aviv since 2001 Lewis has dabbled in many media forms, with metal sculpture rapidly became the primary media for the majority of his maker career. Lewis also turned his hand to education teaching fine art in Israel alongside his practice. Lewis has featured sculpture in over 80 group shows internationally with galleries including Gebo, Amdur, Horace Richter & Rugine. He has had 14 solo exhibitions in Israel, Singapore & Paris & has work featured in numerous large-scale and public commissions including The Ruppin Academic Center, Yamin Orde Youth Village & The Haim Sheba Medical Center. Lewis' art is owned, commissioned and exhibited globally.

Joe Grieve
Biophilic Barrage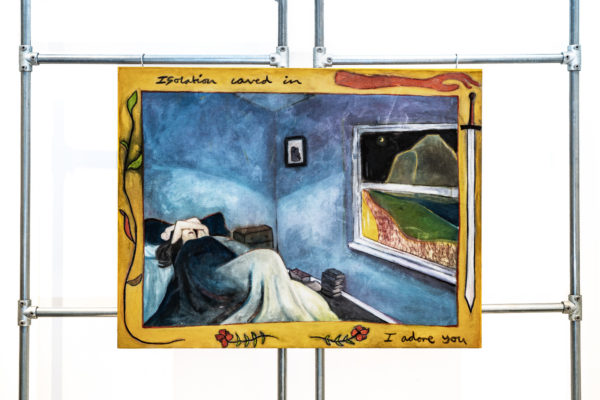 Oil on Canvas
120 x 170cm
Auction estimate: £4,000
Lockdown saw a global wave of natural recovery and connection, in and out of cities. Pollution levels dropped, flora flourished, animals thrived. Whilst also seeing isolation inspire many to reconnect with the natural world. This painting celebrates the beauty, power, resilience, and resurgence of nature in mankind's absence, returned to people's attention by the crisis.
About the artist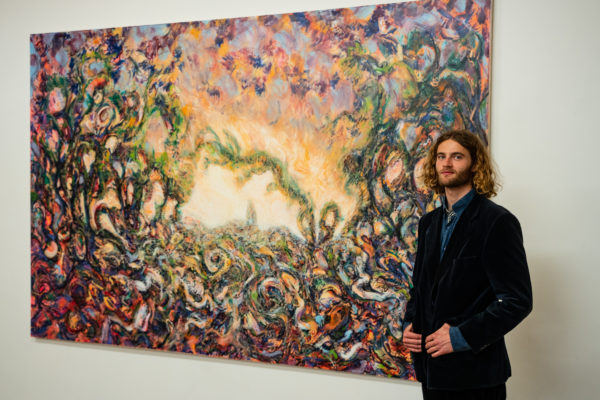 Through making landscape paintings, Grieve finds himself engaging in reveries and nostalgia from remembered landscapes and experiences. They reference actual places merging poetic rural ideals, sometimes underpinned with fragments and marks from urban angles and the sound of the city. In bringing together these elements, Grieve celebrates the unique qualities of painting, constructing illusory spaces through mark-making and strokes of colour. Using primary drawings and found imagery as starting points, these references go through a transformation as the paint takes on a life of its own; the act of painting and its vivacity being key to Grieve's practice. His approach is playful, and often relies on experimental mark making. However, Grieve's aim is to evoke emotions that relate to his experience. He creates work that simultaneously provides a space in which we feel engaged with the familiar, whilst also getting lost within the spectacle of abstract accidents.
Based in London, Grieve graduated 2021 with a First Class Honours degree from City & Guilds of London Art School, having hosted his first solo exhibition in 2019 Artisan Space whilst studying with his second solo show Somewhere Near Perception selling June 2022. His work has been placed in numerous private collections across Europe and will be seen in Blue-chip art collection launching late 2022.
@joebennellgrieve | https://www.brusheswithgreatness.co.uk/joegrieve

James Dearlove
Landscape with Running Figure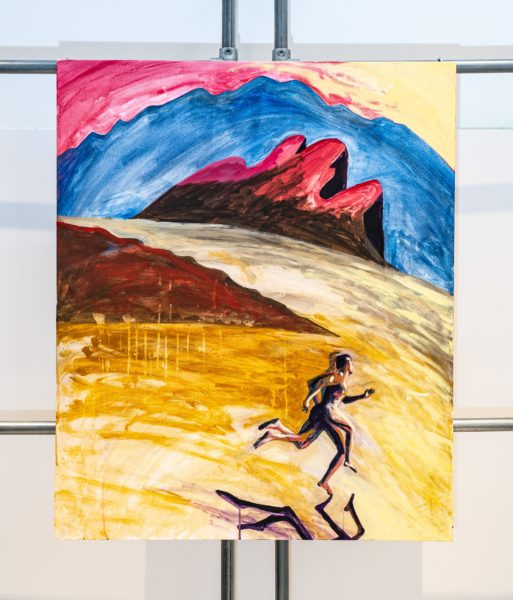 Oil on Linen
120 x 100cm
Auction estimate: £2,500
Dearlove's painting often explores the desire and displacement of human experience. This figure running, possibly in terror, through a psychological landscape, a dreamy expanse with no beginning or end. Beautiful, baron, similar to the strange freedom, fear and longing that no work, no freedom and no contact brought many of us during lockdown.
About the artist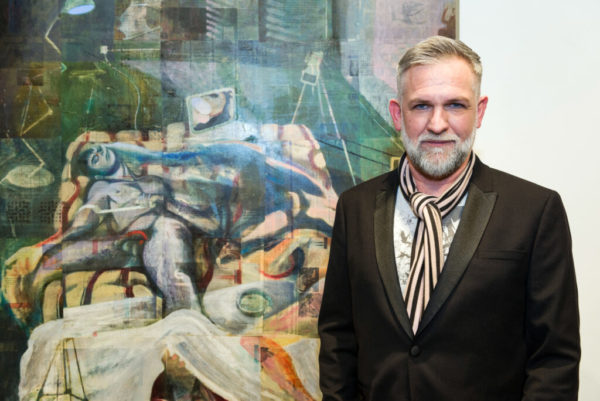 James Dearlove's work presents a twilit, chimerical realm haunted by figures, animals, and hybrids. He is preoccupied with how humans leave a trace of their presence both as individuals and collectively on the world; the presence of a figure in a room, the trajectory of a cyclist across a park, or more destructive collisions of humanity with the natural world.
Fascinated by how marks on a surface can both create and destroy, Dearlove uses a combination of flattened acrylic grounds and viscerally applied oils as well as a myriad of different brushstrokes, scratches, glazes, and spatters that fetishise both the medium of paint and the subject equaly. Ultimately he seeks to explore both the desire and the disquietude in the human experience through his own experience as a queer artist.
A UCL, Slade and Turps trained painter, Dearlove has exhibited extensively in groups shows with alleries including Gallery 46, Unit 1 Gallery, Rye Art Gallery and the Royal Academy Summer Exhibition. Dearlove is a winner of the Ingram prize and nominee of the Jackson Painting Prize and Bloomberg New Contemporaries. He is collected internationally and has had solo exhibitions with Nine Elms Gallery and The Studio.
@jamesdearlove_art | jamesdearlove.co.uk

Henry Glover
Isolation Caved In, I Adore You, the Sound of your Skin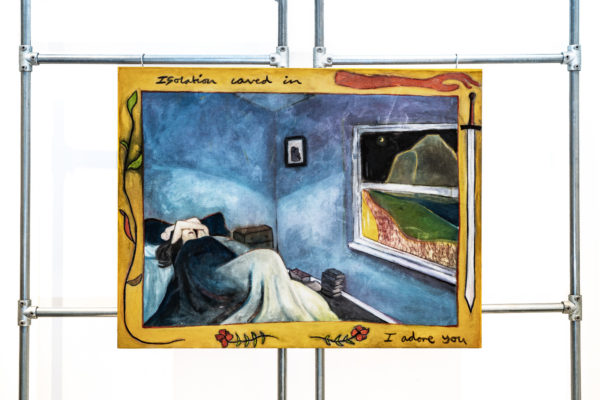 Oil, Soft Pastel & Charcoal on Canvas
100 x 130cm
Auction estimate: £2,000
Made during the height of the lockdown, this painting shows a girl unable to sleep at night. Her room lit up by the landscape outside seen through her bedroom window. Does she wistfully pine for a distant lover, or the close yet distant world just outside?
About the artist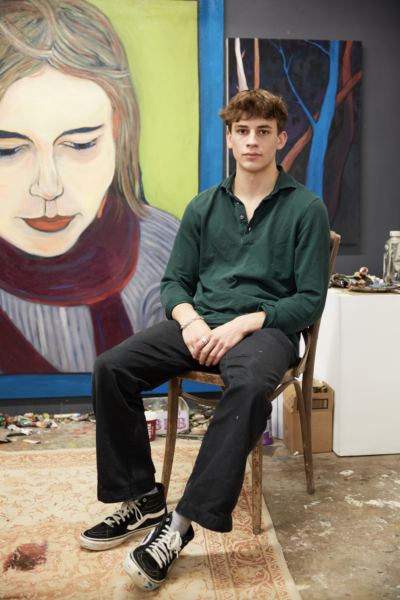 Henry Glover (born 1997) is a London based painting and ceramicist who won the Saatchi art 'rising star' award in 2020, naming him as one of the top 35 artists around the world under 35 years old.
Glover has exhibited his work across the country and his works are in private collections across the world, ranging from America to Europe and South Korea. Glover graduated from Wimbledon College of Arts in June 2020 with a BA (Hons) Fine Art: Painting, and has been actively exhibiting since, including his debut solo exhibition 'Take Me Somewhere Nice' at Liliya Art Gallery March/April 2021 and solo show 'The Knight's Tour' with Grove Collective at Backhaus Space in Berlin September 2022.
Primarily, Glover is an oil painter and ceramicist. He tends to focus on the interplay between the physical sensations of his materials and the raw emotions he experiences in his daily life and personal relationships. Currently Glover is concerned with shared feelings of introspection that have arisen during the recent pandemic and proven to catalyse the impacts of rumination and loneliness on the soul and psyche. His work draws upon the early mediaeval period and British folklore in providing subjects that are romantic but also comforting in their bold figurations and colourful origins.
@hgglover | henryglover.co.uk

Charlie Haydn Taylor
Watchtower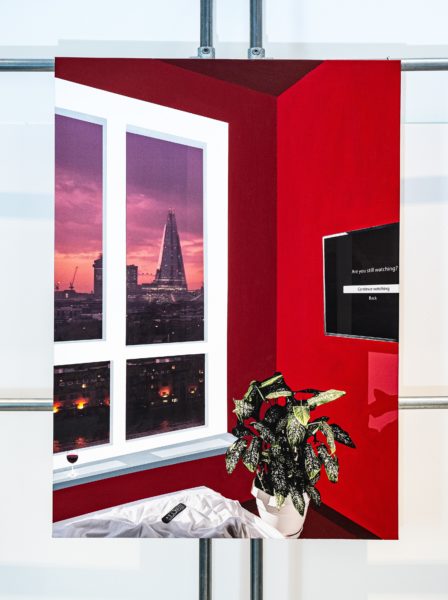 Acrylic Paint & Digital Print on Canvas
127 x 91cm
Auction estimate: £2,500
Watchtower hums of strange inner-city isolation. Watching London, so close, full of life, out of reach. The TV, reading 'Are You Still Watching', evocative of that feeling of the time loop we all felt at times during lockdown. Taylor's signature style of digitally designed and printed collage, finished with painting reminiscent of digital interaction taking the place physical human connection.
About the artist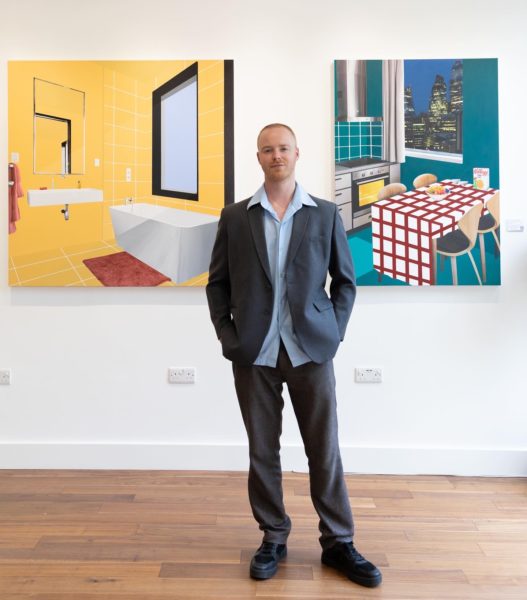 Having exhibited in various cities such as London, Singapore and Florence, Charlie Haydn Taylor has also begun to establish himself as a key figure in contemporary art on the island of Jersey. In 2022, a sculptural public artwork by Haydn Taylor will be installed in the island's capital of St.Helier.
Visually, Haydn Taylor's work is interdisciplinary, graphic and multi-layered, not only in it's physicality but also it's conceptuality, urging the viewer to take time to see and understand the variety of details that arise from both the imagery and the ideas. The use of both paint and digital print allows Haydn Taylor to juxtapose traditional media alongside modern ways of working to create something that bridges the boundaries between the physical and digital worlds, forming a unique setting.
Drawing from minimal modern interior settings and creating his own quasi-graphic environments, Haydn Taylor's work delves into notions of philosophical reasoning and human psychology whilst simultaneously addressing ideas of consumerism. By focusing on common household settings, Haydn Taylor highlights the intimacy of our homes, focusing predominantly on existential thought with ideas forming around how we think and behave away from the eyes of others, a comment on private and public personas.
@charliehtart | charliehaydntaylor.com

Niamh Birch
Dining Table with Flowers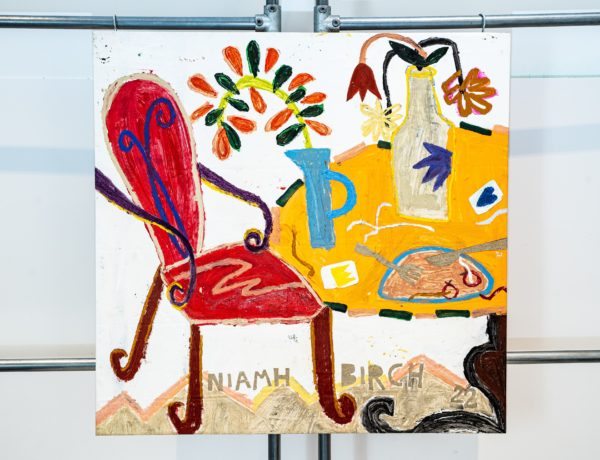 Oil & Collage on Paper
107 x 110cm
Auction estimate: £800
Birch's light-hearted domestic scenes remind us of the sometimes-overlooked happiness the lockdowns brought us. Time communing around the dinner table. Dinners. Cards. Quizzes. Conversations. Many home tables once again became an epicentre of close and distant life with family and friends.
About the artist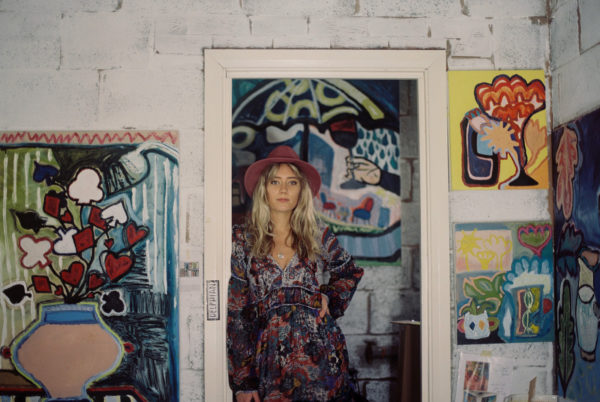 Underpinned by a light-heartedness and humour, Birch's subject matter nods towards traditional still life whilst addressing everyday associations through mischievous imagery, domestic spaces and thick, impasto lines. Using mainly oil based materials and collage on canvas and paper, Niamh works from a combination of imagination, memory, drawings and photographs.
Niamh Birch is an English/Irish Artist based in London who works from her Hackney studio after graduating with a 1:1 in Contemporary Arts Practice BA(Hons) at Bath Spa University in 2019.
Niamh has exhibited extensively since graduating, having has 3 solo exhibitions with galleries including BWG, Studio Kind & 44AD Art Space. And multiple group shows with galleries including The Fitzrovia Gallery, Unit 1 Gallery, Blue Shop Cottage & The Brick Lane Gallery.
@niamh_birch | niamhbirch.com

Dessy Baeva
Heat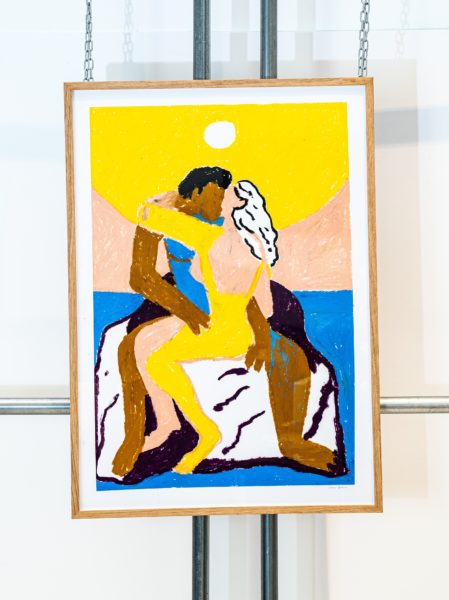 Oil Bar on Paper
85 x 60cm | 86 x 61.5cm (F)
Auction estimate: £1,000
Heat is a piece that celebrates the essential need for human connection and love felt so strongly during lockdowns. After every storm we are faced with the opportunity to get closer to each other. The artwork focuses reflects a global reconnection in light of the pandemic and draws on our desire to build communities and understand others as part of ourselves.
About the artist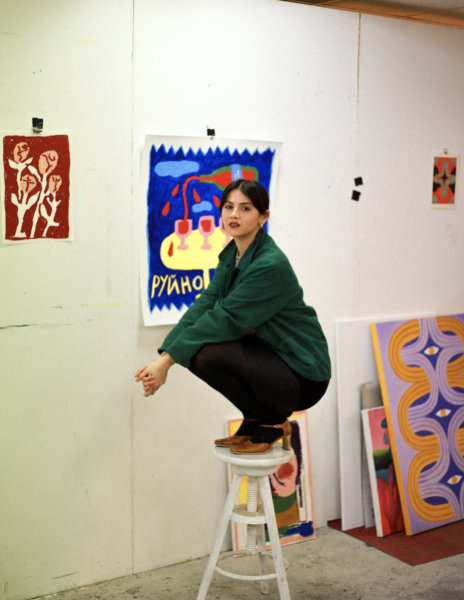 Dessy Baeva is a Bulgarian artist and a musician living and creating in London. Her work explores the topics of spirituality, meaning all beyond the five human senses, and our place and connection to everything in the Universe. She combines bold colours and shapes while using bars of solid oil, instead of brushes to achieve the perfect balance of unpredictable but controlled strokes and textures.
Growing up in a tiny village in the mountains meant that she had to become really imaginative to keep herself entertained which is one of the reasons her work carries a specific psychedelic dream like quality. From mystic mountains, groovy faces, swirly patterns to Tarot archetypes.
@dessybaeva | dessybaeva.com

Get involved on socials with the hashtag #ArtUnmasked
Let us know if you'd like to receive information about the Art Unmasked Auction which we hope will take place in Spring 2023.