A Make Some Noise supported charity brought together the families they support for an uplifting performance of S Club 7's song, 'Reach for the Stars'.
Reach is a charity based in Devon that helps children with upper-limb conditions. The charity is dedicated to helping children realise their potential and that their disability doesn't have to hold them back in life.
In the video (watch in full below) 32 people aged from 3 to 70, joined Reach's virtual orchestra to raise money for the charity and to emphasise how important being part of a community is for children with a limb difference. The result is just beautiful.
Speaking about the performance, 10-year-old Harry told us:
"I'm really excited to be part of the Reach virtual orchestra and I hope that by coming together we can make people happy and show people that, whilst having one hand may mean we play our instruments a bit differently, we can create something special and inspiring that people will enjoy.

"Reach means a lot to me because it gives me a sense of belonging. I've made friends who have a disability like me and understand how I feel and can give me advice on how to do things I may be struggling with and this has helped me be more confident."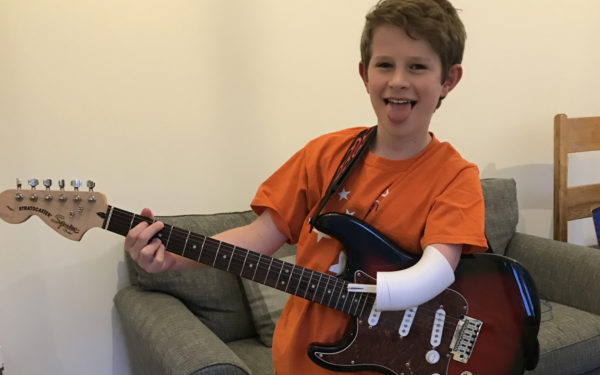 Small charities have been hit hard by the virus crisis due to the cancellation of fundraising events, but their work is vital for many families who rely on their services.
Clare Salters, Reach's chair who edited the video, told us:
"There is a lot that is special in the video – the collective whole, the individual journeys that each of the children have been on to prepare their part (easy for some, mammoth achievement for others).  But for me the most magical moment comes at the end, when everyone shouts: 'I said Reach!'. You can hear the love in their voices, and see it on the faces of children, siblings, parents who know what a difference Reach has made to their lives."
Global's Make Some Noise is proud to fund small charities like Reach, which provide crucial support for their communities.
Help us protect the vital work of small charities across the UK.
---
---
To donate £5, £10 or £20 text Help5, Help10 or Help20 to 70766.
100% of your donation will go to Global's Make Some Noise. 16 and over only. Standard network charges may apply. Full Ts&Cs can be found here.