October is Black History Month in the UK and we teamed up with Capital XTRA to give a voice to Make Some Noise supported charities, NESTAC and akt.
Throughout October, Capital XTRA are marking the incredible contributions of Black people in the UK – their achievements, their history, the impact they've made within their communities and more.
Every day for Black History Month, Capital XTRA are sharing the voices that need to be heard.
Including the voice of Bex Shorunke, Senior Media Officer at akt, a Make Some Noise funded charity that provides support and housing solutions to LGBTQ+ young people who are homeless or living in a hostile environment.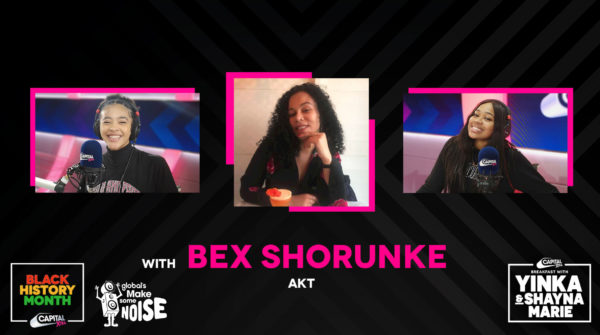 Racism within the renting sphere
A significant number of young people accessing akt's services are Black or People of Colour (PoC). As reported by akt, 24% of the U.K homelessness population identify as LGBTQ+ and 68% of the young people accessing akt's services are Black and PoC (rising to 80% in London).
Bex spoke to Capital XTRA Breakfast presenters, Yinka and Shayna Marie, about anti-blackness in housing and racism within the renting sphere.
Bex explains: "The reason ethnic minorities are over-represented in queer youth homelessness is due to the additional barriers they face accessing help. Homophobia and transphobia aside,  we live in a world where racism and anti-blackness within the renting sector exists"
Black men face issues such as being disproportionately stopped and searched by police. This negatively impacts young Black men who are rough sleeping as the police are constantly moving them along. This prevents the charity, StreetLink, who require rough sleepers to be in a fixed location, from helping them into shelter.
How does akt help? 
akt provides support, advice and access to accommodation including an emergency safe house, 'Purple Door' for LGBTQ+ young people.
At Purple Door, young people facing street homelessness or fleeing domestic violence can find the safety to secure longer term housing. It's also a space to help them access employment, training, debt management solutions whilst learning to live independently.
Global's Make Some Noise supports the charity's Director of Services role helping them reach young LGBTQ+ people experiencing homelessness or in crisis across London, Manchester, Newcastle and Bristol.