We're bringing you a little positivi-tea with these feel good stories.
We've teamed up with English Tea Shop to share some feel good stories that will hopefully make you smile.
From keeping children entertained and communities connected, small and local charities are making special moments happen every day.
When times are challenging and days uncertain, it's stories like these that can bring a little light.
Take a no noise moment, make a cuppa and enjoy!
Activities from KEEN for children with disabilities 
Throughout lockdown, London based charity, KEEN, have been keeping children and young people active and entertained. From den making and dancing, to star jumping and bunny hopping, watch their lockdown highlights video above.
Tea and Talk with Berkshire Vision
Thanks to English Tea Shop, the charity held a virtual Tea and Talk afternoon to bring a little bit of cheer and company to visually impaired people.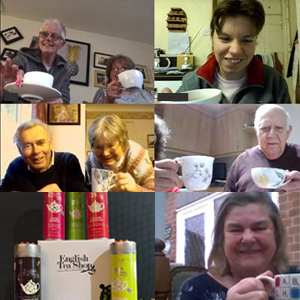 We're funding Berkshire Vision's Telephone Befriending programme, as part of the Government's Community Match Challenge scheme. This programme matches volunteers to those the charity supports to build new friendships and help visually impaired people feel less isolated.
Support Dogs give families special time together

9-year-old Tabitha has made this beautiful video to show you the amazing work autism assistance dog, Thunda, does to look after  her brother, Franklin. The family can now do more together with Thunda by Franklin's side. 
This is a must-watch 💙 Meet 9-year-old Tabitha, her brother Franklin and their @supportdogsuk Thunda as they enjoy vital family time with their assistance dog… pic.twitter.com/VZ1yDaJj7S

— Global's Make Some Noise – Emergency Appeal (@makenoise) February 4, 2021
Young people given computer tablets
​​​​Heart Breakfast teamed up with TalkTalk to get devices into the homes of children at risk of being locked out of lessons. Children like Matea now have tablets to support their homeschooling…
Matea is homeschooling and shares her laptop with her sister who's also studying and mum who's working!

So @JamieTheakston and @AmandaHolden along with @TalkTalk surprise her with two brand new devices so they can all really focus on their work!👏https://t.co/rvjFrccfvd pic.twitter.com/tZEoMF32fx

— Heart (@thisisheart) January 25, 2021
The coronavirus pandemic has escalated many problems in our communities, such as homelessness and hunger, pressure on carers, domestic violence and mental health problems. We're working to address issues like these by supporting small charities reaching those most in need of support.
Please consider becoming a regular giver for as little as £5 a month and we'll keep you updated with more stories of how your support helps. Start giving regularly.